the war correspondent by maria lusitano
Two months ago I was asked to record a voice over for Maria Lusitano's MA piece "The War Correspondent".
Contributing to this piece was a very interesting experience in terms of collaboration. Maria Being in Sweden and I being in London meant that we had to communicate solely using networked solutions such as Skype and Google Chat.
The process was quick and simple, and I believe it was facilitated that way because of the "cyber" nature of the meetings and feeds.
Having the restriction of time and not being physically in the same room, led to less usual procrastination, and a more to the point approach with quick decisions and resolutions.
First Maria emailed me the script and a few days later, I rehearsed the piece with her over Skype. She gave me her directions and our rehearsal was over after  about an hour.
I then recorded a sample and emailed it for her approval, after which I recorded the whole piece. I uploaded the files to an ftp site for her to download, which was the best way to get around the issue of sending large file over email.
Press Release
MFA Graduation Exhibition, Malmö Art Academy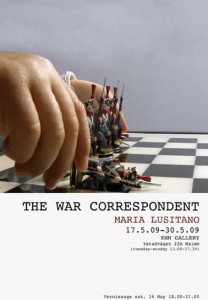 For her graduation exhibition Maria Lusitano presents a video work: The War Correspondent. By expounding upon a historical event – the Crimean War – Lusitano produces a counter narrative not only of the historical subject but also of the dominant discourse of the representation of history as such. The War Correspondent proposes a nonviolent approach to representations of war, as Lusitano juxtaposes the aesthetisation of violence (depictions of war by the cultural industry) as well as its de-mystification in this 50 minute video: a wide range of critical responses to the business of war.
The project's main inspiration was a 5-year-old boy's everyday visual surroundings since in The War Correspondent Lusitano successfully combines her profession as an artist with her private experiences as a mother. In this perspective the featured work can be interpreted as maternal notes on our contemporary visual culture, which is pervaded by violence. Violence that is always sold as something else: as a form of success, a form of doing good, or a form of love, which is revealed by Lusitano's ethical stance and her straight forward feminist intervention.
The core of Lusitano's work was inspired by an object she came across: a 19th century newspaper that was among the first media sources presenting up-to-date news from a battlefield to a wide public. By appropriating its visual imagery Lusitano also provides a sophisticated critique of media representations of war in general. Thus the quotations in The War Correspondent stem from the visual clichés of our everyday life – such as a museum display or a cartoon still. Consequently, it raises our awareness of how visual pleasure works with regard to images of war. Apart from the video work, Lusitano is also presenting a digital book based on her research so that one can revisit – or rather re-edit –the main topic of the work, reformulating the viewer's own position in Lusitano's story in an interactive manner.
Emese Süvecz
(May 2009)
Vernissage Saturday 16th of May 18 – 21
Gallery KHM
Ystadsvägen 22 a, Malmö
17.- 30. May 2009
Tuesday – Sunday 13-17