field work in WebcamNow – cctvecstasy project
wcn and cctvecstasy project, jan 2009
webcamnow- the platform
American-based Webcamnow.com or WCN for its most avid users is a video network connecting live webcams around the world. WebcamNow activated its free videochat service facility in 1998, which makes it one of the oldest online adult videochat providers. It advertises itself as having the biggest directory of live cameras.
WCN offers three main experiences on its video platform. Users can register as visitors, free members or as paying members or "Speedsters". As its name indicates, the Speedster membership allows users to view cameras at a faster rate, otherwise limited to a low speed preview, with the image refreshing every 6 seconds only for free members and visitors.
Visitors can navigate through the network of live webcams, or "rooms" as well as communicating via "Chat"; however, they are not able to broadcast themselves on the video network.
Upon entering a username and password, users can access the WebcamNow chat rooms, and  select the area they wish to socialize in.
WCN provides the choice of two networks, being presented as two distinctive spaces. The first is the Open Area, governed by an Adult Content Agreement hence essentially populated by members looking for intimate or sexual experiences of a kind only limited by each user's needs, desires and fantasies.
The second area – Friends and Family- as opposed to the latter is a monitored section, in which users can meet and exchange; nonetheless on a very personal level, yet respecting the area's conditions of use to behave in a non-offensive or objectionable manner. This area wants to cater for mainstream audiences.
The default interface for Wecamnow.com is made of four distinct areas. The first and main area is the Viewer Window for receiving other user's webcam data. This window is situated at the top left of the screen and can be resized to a choice of available settings from small to large.
Webcam volume can also be adjusted from this window, provided the chosen chatroom has allowed microphone access.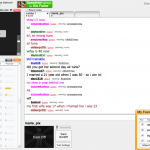 Immediately below the video screen is a drop down list of all available webcams to view. The list can be organized by ID name, alphabetically or not, and an option to have a thumbnail preview of the cameras also exists. The user can chose a webcam view by clicking on the ID name. Most of those will be somewhat descriptive. LUV_U_2 or Man_Kandy reflect the general strategy for assuming a webcamnow identity.
Users can also use their own id name from the list and thus have their own image presented back to them.
A popularity rating system is also available in the form of a health bar or Life bar borrowed from video gaming.
A life bar, in a gaming environment is used to display a character's remaining life or state of health.
Usually represented by a horizontal rectangle, a life bar would begin filled with colour, and every time the games character gets injured or makes mistakes, the coloured area would decrease, thus reducing the character's life until death. When the bar is empty, the game is over.
Similarly, on the WCN platform, an emptied popularity bar represents a very low number of supporters of a particular room. It is then assumed that nothing of interest to the majority of WCN users is usually happening in that chat room. The "performer" isn't performing well. This might mean no sexual content, the person has left the room but kept the webcam on or the person isn't "showing" but just "watching" without interacting.
A partially full or full coloured popularity bar represents a high number of supporters. Someone, logging to the platform, will instantaneously know which webcam is generally popular. This does not represent the number of viewers watching at the time but rather the number of users who have been following a particular webcam.
Particular chat rooms or id names can be selected to then be placed in a viewer's favourites window. Paying members of WCN, can then receive alerts, which warn them of their favourite webcams coming online.
The chat area is situated on the right end side of the main video screen. The chat window will organize three areas of chat activity into three tabs within one window.
The lobby, the user's chat room, and the selected cam's chat room.
The Lobby is a common area where the WCN community can relay comments, ads and information on rooms of interests and particular users' whereabouts.
E.g. "cctv is chatting over at marie_pix" or  "any1 wanna cam on yahoo? add me. a10win**"
The user is able to contact and be contacted by others via its chat room or by visiting another user's chat room.
Text can be typed in a dynamic field at the bottom of the chat window, which upon sending will appear in the active chat room (selected tab) along with the user's id name.
Users can be ignored or banned if content is deemed offensive by the receiving party, thus instantly stopping all communication from that user to reach one's own chat room.
"Bans" can be managed and users "forgiven" under the "Chat Settings" menu.
Underneath the chat window is an area called "My Broadcast". In this area is a display of the user's own webcam stream. Only free members and Speedsters will have access to this area and have control over their image and voice 's broadcast.
Users can choose whether they want to be seen or not by turning their webcam on or off, they can also choose whether or not they want to be heard by switching their microphone on or off.