Thursday, November 19th, 2009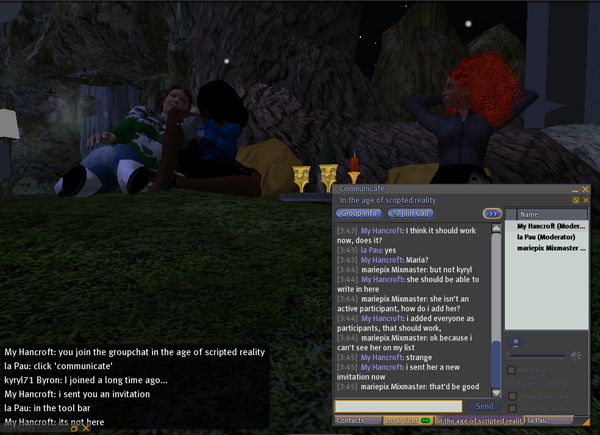 Emolab meeting in SecondLife: My hancroft, kyryl71 Byron, La Pau and Mariepix Mixmaster try to set up a group chat over late breakfast at Kalepa gardens.
We'd started this collaboration and relationship a few months back, first with a skype meeting.
Some of us had met in person before, but the group had never physically been in the same space together before.
The technical unsuitability of the Skype conference system led us to Oovoo. This let us video chat, each of us having our own channel. Communication here also had to be adapted to the distractions and interferences brought by busy networks, slow connections, webcam failures, sound delay…
SecondLife was one of our most challenging experience in terms of communication and exchange. Public chat, private chat, group chat and live chat; different options for conversing within the same immersive environment yet the interface is somewhat inconsistent moving from one communication tool to the other. Surpassing that, having all these options available in one group situation makes for a potentially complex dynamic to handle.
While being able to visualize ourselves as a group, existing in avatar form in a common location, La Pau could be in a private chat with Mariepix Mixmaster. My hancroft, kyryl71 Byron and La Pau simultaneously could be together in a public chat open to and heard by all visitors of the location; a group chat could be happening alongside all other communication groups and forms existing within Secondlife. Huis-clos situations forming between members of a team whose confidence as a group could be insecured could not only break up the group communication but also fragment the group visually.
The difficulties were spatial and temporal sealed by the technologies' failure to sustain us collectively in a given location. As we merge with our avatar, as we learn about our environment and how to operate within it in a virtual skin, as we dislocate our mind from our physical place, the introduction of a group situation makes us having to juggle more simultaneous motor, mental and intellectual activities than we are used to.
As a result, La pau might return to Paula at home in Portugal, Mariepix Mixmaster returns to Marie at her desk in London, kyryl71 Byron might return to Maria somewhere in Malmo and start exchanging disengaged messages via email. Meeting over.
Email, instant messaging, video chats and virtual environments, all part of our daily lives for a over a decade now, we thought we were masters of wired communication. Ultimately, communication is a skill to be re-learnt and re-developed with every situation, place, platform, time and technology.